One day HSE Compliant course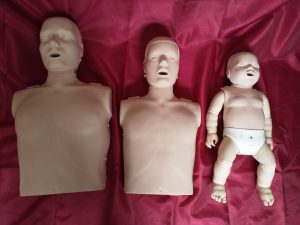 This course is fantastic for KS1 & KS2 Schools, giving confidence with often worrying topics such as Anaphylaxis and Asthma.
It'll well prepare you for an emergency situation both in and out of school – and centres around building an emergency plan, ready to quickly kick in should an emergency arrive!
This course is available for groups at your school and covers all the essentials you need for Emergency First Aid.
INCLUDES:
Emergency Actions
Child, Infant & Adult Basic Life Support (CPR)
Child, Infant & Adult Choking
How to use a defib (AED)
Head, Neck & Back Injuries
Asthma
Anaphylaxis & Adrenaline Auto-Injectors (including Epipens)
Unconsciousness & Recovery Position
Bleeding & Burns
Injuries to the Bones, Muscles & Joints
Seizures/Fitting
First Aider Responsibilities
Plus lots more!
ADDITIONAL INFORMATION:
Settings that need to comply with the Early Years Foundation Stage Statutory Framework should assess their needs and should consider training their team on the 2 day full Paediatric First Aid Course.
This course is also Health & Safety Executive (HSE) compliant.
Each delegate will get a certificate valid for three years.
This course is a fun and interactive workshop, with lots of time for practice and question. There are no formal tests.
Total cost for this course, for up to 6 delegates, is £400.
Total cost for this course, for up to 12 delegates, is £450.