Two & a half hour Resuscitation Council Compliant Anaphylaxis Course 
includes Basic Life Support (CPR) and using a Defib (AED)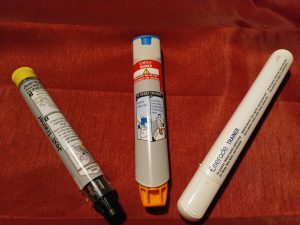 Anaphylaxis is scary, and this friendly workshop will give delegates the confidence of what to do should an emergency arrive. Fantastic for primary care and childcare settings, and those wanting to know the essentials of what to do in a life-threatening emergency.
IT'S GREAT FOR:
Action for Anaphylaxis is great for those who are in an environment where they need to be really prepared for anaphylactic emergencies, have a need to regularly update their basic life support skills, such as:
General Practices
Community Healthcare
Schools & Nurseries
Pharmacies
This course is suitable for novices and experienced people alike – and can also be used by community groups and organisations.
INCLUDES:
Recognising Anaphylaxis
Using Adrenaline Auto-Injectors (AAI's) inclusing Epipens, Jext and Emerades
Emergency Actions
Child, Infant & Adult Basic Life Support (CPR)
Child, Infant & Adult Choking
How to use a defib (AED)
ADDITIONAL INFORMATION:
This course is UK Resuscitation Council Compliant.
Each delegate will get a certificate valid for three years.
This course is a fun and interactive workshop, with lots of time for practice and questions. There are no formal tests.
Total cost for this course, for up to 6 delegates, is £350.
Total cost for this course, for up to 12 delegates, is £400.